I had 5 days off work this past weekend. We were supposed to visit Jeremiah's family in Texas, but plans changed and we ended up staying home. I wanted to make the most of it, since its rare that I get this much time off. And I think we had a pretty fantastic time!
Friday was the best day I've had in a long while. Jeremiah and I decided to spend the day together (sans kids), which we haven't done in quite some time! Then my mom was kind enough to babysit for us that night, so we got to have a date night! During the day we hung out, went to the mall, had some lunch, shopped around a bit. I finally convinced Jeremiah to buy a sportscoat, something he's been wanting a while. We both decided to kinda dress up a bit for our date night. I loved doing that! We had dinner at Carrabba's (best food EVER!) and then relaxed at Starbucks and talked a while. It was wonderful. ♥
Saturday I got up bright and early and headed over to Caleb's soccer game. I love watching him play, its so amazing seeing him improve over the years. The kids aren't supposed to keep score at this level, but we do it anyways and our team won 7-2, hehe. :P
After soccer Jeremiah, Joley, and I spent the day together. We got grocery shopping knocked out, and then we were on the hunt for a bike trailer. Joley's outgrown her baby seat that fits on my bike, but she's still too small to handle a bike of her own and be able to keep up with us... heck, Caleb can barely keep up. So we looked for a tandem bike to attach to the rear of one of ours, but she isn't quite big enough for that yet and it just seemed like a waste. So we searched for a bike trailer and found one. To my surprise Joley LOVES it! I figured she'd hate sitting back there, getting pulled around. But she was soaking it up, like the princess she is, haha. I told Jeremiah that she looked like a little pet monkey or something, being pulled all around, haha. :P
Saturday afternoon I met up with Angie to go get our nails done. That evening we were having a GNO! WOOHOO! :) Much needed, haha. After getting our nails done we had sushi. It was my first time going somewhere for sushi, seeing as how I only recently popped my sushi cherry, heh. ;) It was FANTASTIC. LOVED IT! After dinner we headed downtown and had a blast! Great night! Too bad I got tired quick (I'm so OLD! Ack!) so we called it a night.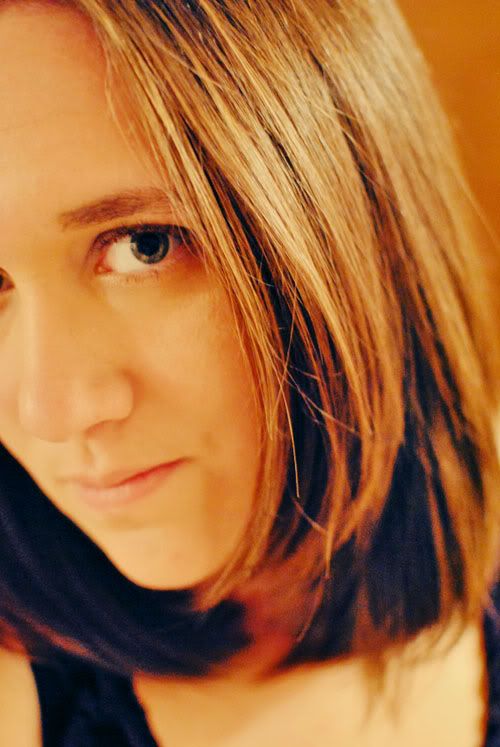 Me!
Angie looking all pretty!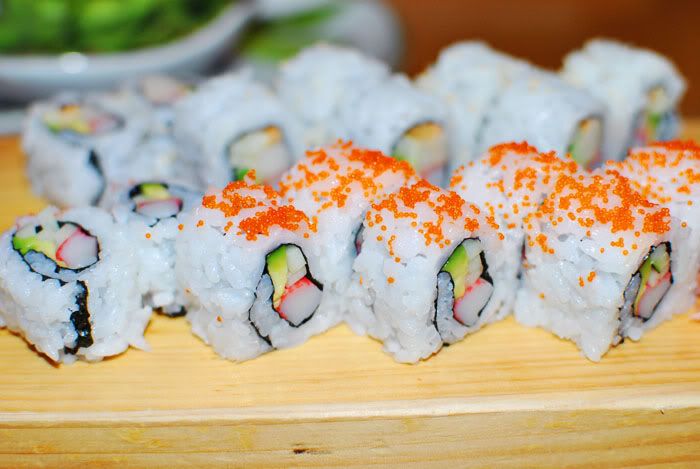 I loved Angie so hard that night for telling me the red things on mine were fish eggs. :X hehe :P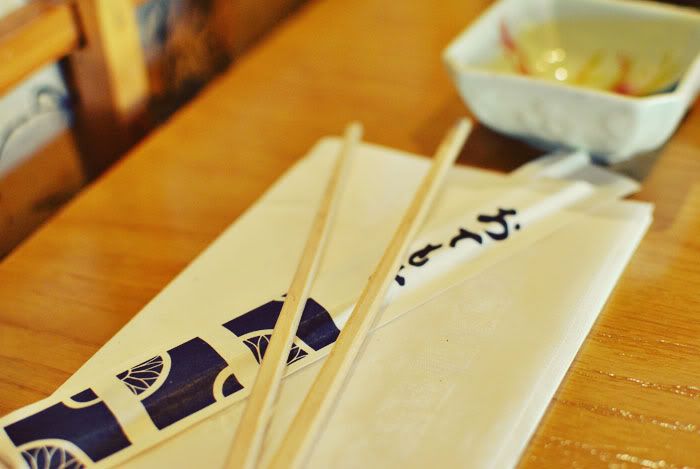 Sunday my lovely husband let me sleep in since I got home so late the night before. He's wonderful like that. :) After I got my tail up, we went to the park with Joley, for a bike ride and to try out the trailer. Jeremiah had taken Joley to the park the night before (while I was out) and said Joley did great! I was eager to see too! She loved it, of course. We had a lovely little afternoon at the park.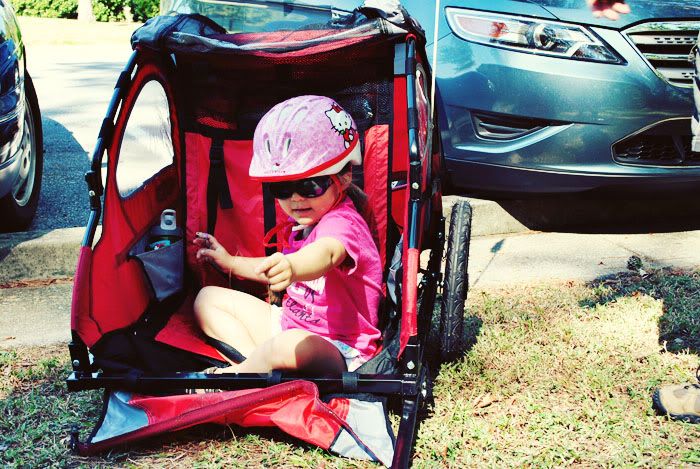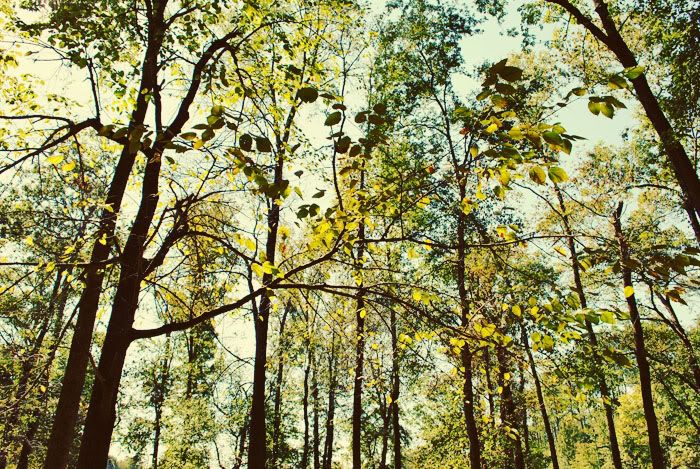 Beautiful day!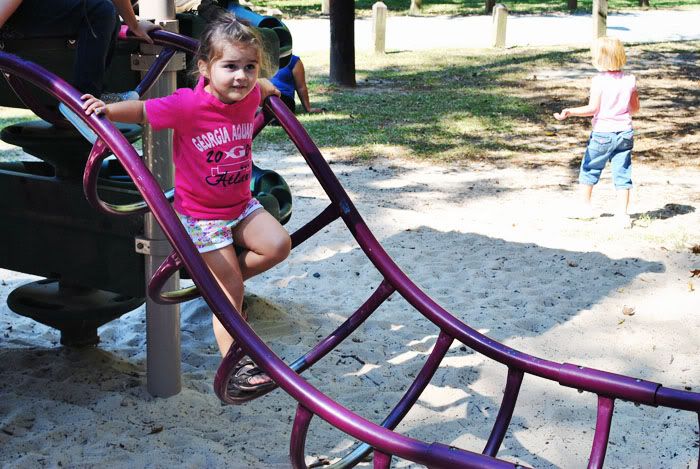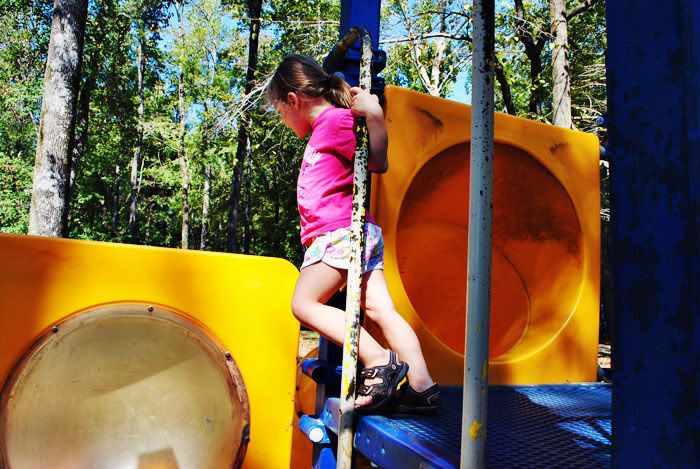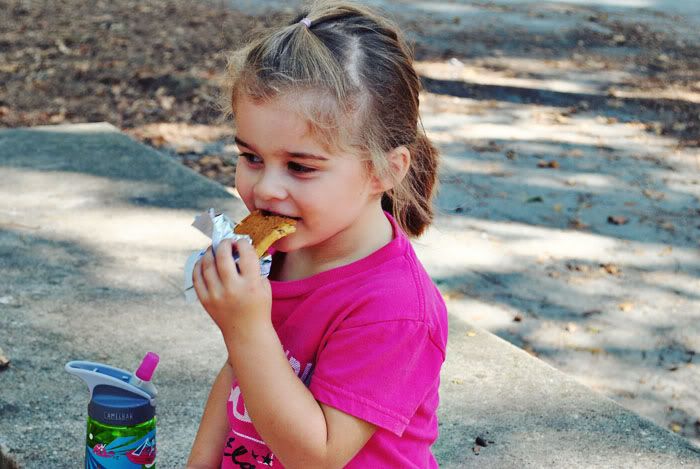 Snack time!
Sunday evening I decided to treat the kids and went over to Blockbuster and rented Joley
Beauty and the Beast
since its new to DVD (need to pick up a copy of that for Joley for Christmas!) and got
Furry Vengeance
for Caleb. Both kids were ecstatic, of course!
Yesterday was a relaxing day. Caleb was at school and Joley was at daycare. I got my car washed and all spotless and purdy! I got some chores done around the house. Then I went to Starbucks and got a drink and read my book for a bit before it was time to pick Caleb up from school.
I finished Joley's halloween costume! She wants to be a butterfly, so I let her pick out some wings and then I made a matching tutu! She'll wear black pants and a black shirt underneath. Too cute! I'm hoping she'll let me paint her face as a butterfly too (like
this
) but I'm not holding my breath on that one. My child is definitely quirky, and she freaked when I showed her pics of butterfly face paint, lol. *shaking my head*
I'm hoping to get the tutu to flatten a bit... right now its WAY poofy!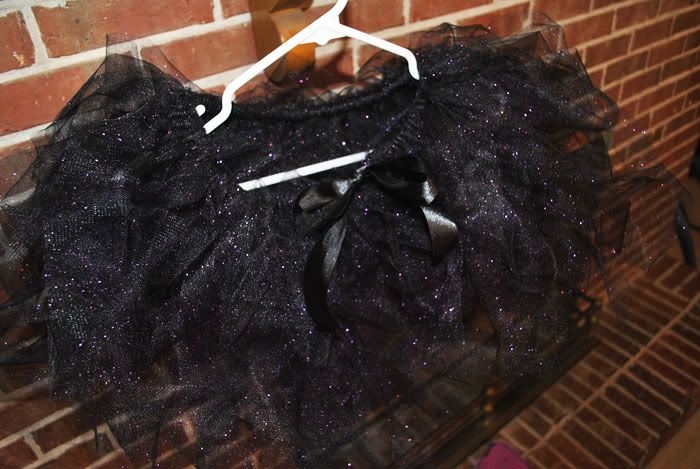 Today has been fun. It started out as a cramped day. Didn't have much time to get anything done because it was Early Release Day for Caleb's school and I promised him I'd have lunch with him today, so I had all of 3 hours to take care of whatever needed to get done around the house. Instead I mentioned to Jeremiah some wooden cubbie/organizational things I'd seen at Target, so we checked Caleb out of school early and took him to lunch, then went on a crazy chase around town, trying to track down the best solution to our clutter, lol. We plan on moving once Jeremiah graduates in the spring... even if we stay here in town, I'd atleast like to get into a home of our own. I haaaaate not being able to paint and redo things in this house that I despise.
So after looking all around, Jeremiah agreed with my take on how to redo our rooms. We decided to first start on the living room and Joley's room... the two that need it the most. Our room and Caleb's room are ok for the time being. Joley's room has been an absolute mess for a while. The child has way too many things and not enough space. Her room is the smallest in this house though.
Living room before... GAG! We've had that TV stand since we first moved in together! We could never decide what we wanted to do with this room, really. Or just never put much thought into it. What we had worked ok. But now its soooo much better!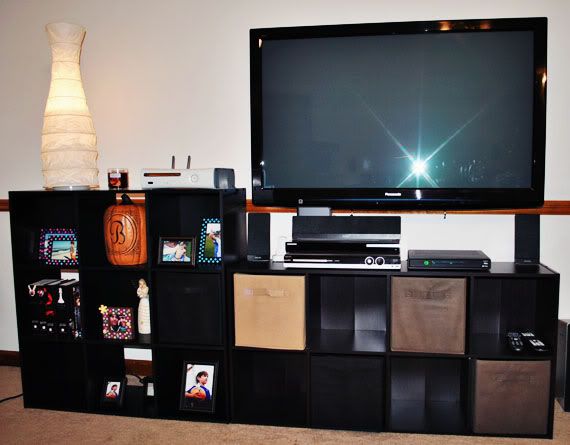 Living room after! Love it!
Joley's room before... a total cluttered mess. I couldn't find any good way to keep her things organized because her room is so tiny.
But now its PERFECT! Soooo great, I love it so much!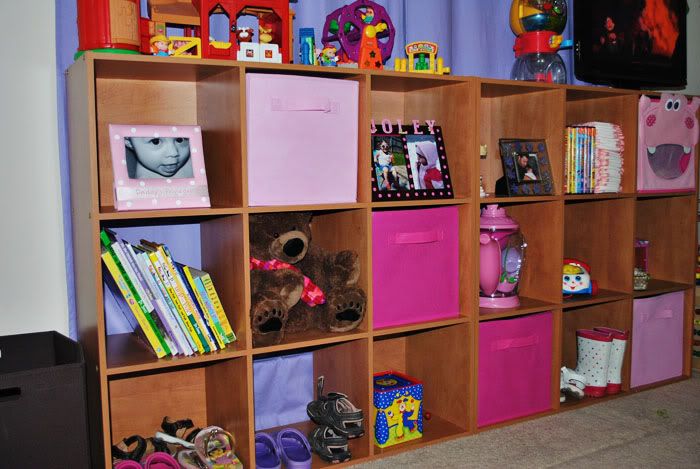 Her little cubbies are too cute!
Next will be Caleb's room, and then hopefully our room. The great thing is that no matter if we move or what, we can always use these cubbies... you can arrange and rearrange them, tons of possibilities!
Time for bed now. All good things must come to an end, as tomorrow begins my work week.