I've been wanting to get more into baking lately, but never really knew where to start. It seems so involved, and I didn't want to shell out hundreds of dollar buying all the tools and supplies I'd need. I figured I should start with some cake decorating classes that are usually offered at the craft stores here in town. But honestly, with our crazy schedules, when will I ever have time for that?
Over the past few days I tossed around the idea of making a Mother's Day cake for my family to enjoy next weekend. I convinced myself to buy the few cheap tools/items I'd need. Then I talked myself out of it. Today I decided the hell with it, I'm making this dang cake! I told myself it'd be easier and cheaper if I go with buttercream frosting instead of fondant, mainly because I've never used fondant before and I know I'll end up with it everywhere and I'll get frustrated, etc. Trusty ol' youtube provided me with some wonderful ideas on how to get a smooth finish with buttercream frosting. Particularly
this video
. And she also posted her buttercream recipe
here
. I just added some almond extract along with the vanilla to make an almond-y flavored frosting. It is DELICIOUS! The cake turned out super cute, if I do say so myself. Not perfect, but not shabby for it being my first attempt! The cake tasted wonderful, much better than anything we've ever bought anywhere.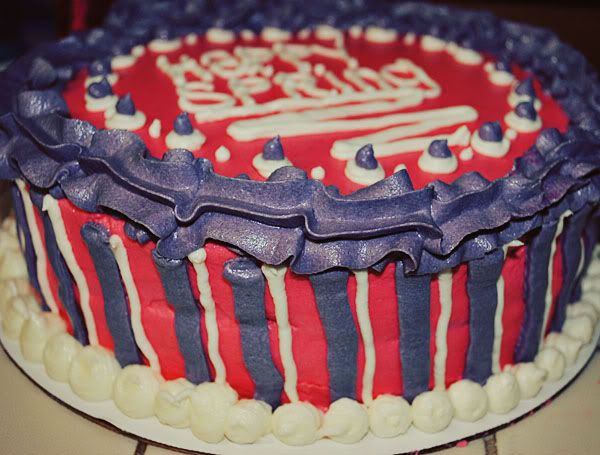 This evening we decided to use the grill for the first time this year. We made hamburgers! Yum! Per the kids' request, we all ate outside and enjoyed the nice, warm evening.